2013 Ford Escape's beautiful transformation
by David Létourneau May 1, 2012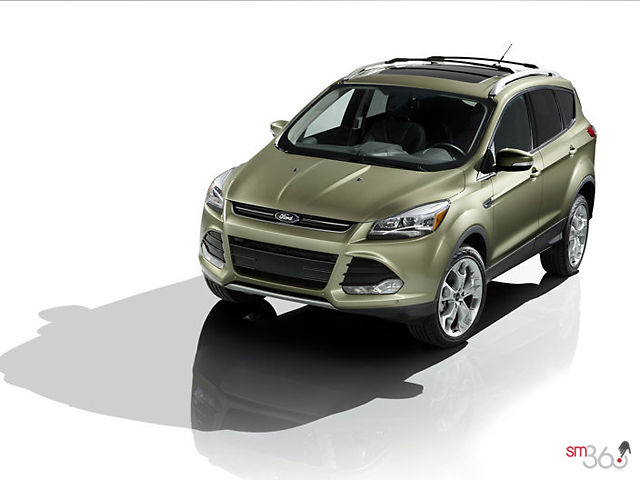 There are many changes to the Ford Escape's 2013 model. Ford decided to change the rules of the compact sport utility vehicles (SUVs) category.
First, we note that the aesthetic is refined. More aerodynamic shapes give it a better look. At first, its lines make it look smaller, but, after a while, we notice that it is only a little lower and that, as a whole, it is wider and longer. Its lower ground clearance gives it better stability and extra agility.
The American manufacturer has decided to abolish the hybrid model and the six-cylinder version. This decision is certainly due to the Ecoboost engines (see how it works here). This technology is available on most versions of the 2013 Escape and these engines make it one of the most energy efficient SUVs. These are powerful engines, particularly the 4-cylinder 2.0 liter Ecoboost that develops a surprising 240 horsepower and 270 lb-ft. Ford thought about fuel economy, much sought-after these days, while retaining a towing capacity that dwarfs all competition. All models of 2013 Ford Escape are equipped with a 6-speed automatic transmission.
On top of improved exterior and engine design, the 2013 Ford Escape has a comfortable cockpit. First, the highly advanced soundproofing is especially appreciated near areas with the most noise pollution. The materials used are of superb quality. The steering wheel controls allow the driver to easily command many on-board systems. Cargo space was increased to meet the needs of families.
Several options are available with the 2013 Ford Escape. One sure thing is that you will find Ford power and the desire to always do better in every Ford vehicle.
Contact your LaSalle Ford dealer for information on new 2013 models by clicking one of the options below.
Ask your questions Road test Price quote
http://img1.sm360.ca/ir/w600h450/images/news//lasalle/358/2013-Ford-Escape-004..jpg http://img1.sm360.ca/images/news//lasalle/358/2013-Ford-Escape-004..jpg
http://img0.sm360.ca/ir/w600h450/images/news//lasalle/358/2013-Ford-Escape-002..jpg http://img0.sm360.ca/images/news//lasalle/358/2013-Ford-Escape-002..jpg
http://img0.sm360.ca/ir/w600h450/images/news//lasalle/358/2013-Ford-Escape-005..jpg http://img0.sm360.ca/images/news//lasalle/358/2013-Ford-Escape-005..jpg
http://img1.sm360.ca/ir/w600h450/images/news//lasalle/358/2013-Ford-Escape-007..jpg http://img1.sm360.ca/images/news//lasalle/358/2013-Ford-Escape-007..jpg
http://img2.sm360.ca/ir/w600h450/images/news//lasalle/358/2013-Ford-Escape-003..jpg http://img2.sm360.ca/images/news//lasalle/358/2013-Ford-Escape-003..jpg