2012 Ford Focus Titanium Hatchback
Price Starting At: $26,649 Includes Transport and Preparation
Town : 7.20 L/100KM
Highway : 4.80 L/100KM
LEGEND
S = Standard O = Optional
FUEL
Town : 7.20 L/100KM
Highway : 4.80 L/100KM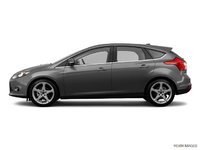 EXTERIOR 
S Power door mirrors
S Heated door mirrors
S Turn signal indicator mirrors
S Spoiler
S Door handles: Body-coloured
S Chrome side window mouldings
S Number of doors (4)
S Door mirrors: body-coloured
S Bumpers: body-coloured
ENTERTAINMENT FEATURES
S AM/ FM radio
S CD player
S MP3 decoder
S Radio data system
S Voice activated radio
S Speed sensitive volume
S Steering wheel mounted audio controls
S Speakers (10)
S Entertainment system
S SYNC®
CONVENIENCE FEATURES
S Air conditioning
S Automatic temperature control
S Front dual zone A/ C
S Underseat ducts
S Voice activated air conditioning
S Air filter
O Power moonroof
S Speed control
S Power windows
S 1-touch down
S 1-touch up
S Remote keyless entry
S Illuminated entry
S Integrated key/ remote
S Retained accessory power
S Tilt steering wheel
S Telescoping steering wheel
S Day-night rearview mirror
O Auto-dimming rearview mirror
S Passenger vanity mirror: Illuminated
S Garage door transmitter
O Navigation system
S Front beverage holder
S Rear beverage holder
S Overhead console
S Overhead console storage
S Driver door bin
S Passenger door bin
S Rear door bins
S Seatback storage pockets
S Driver's footrest
S 12V DC power outlet (2)
S Driver vanity mirror: Illuminated
WARRANTY
S Basic warranty: 36 months/ 60,000km
S Powertrain warranty: 60 months/ 100,000km
S Corrosion perforation warranty: 60 months/ unlimited distance
S Roadside assistance coverage: 60 months/ 100,000km
S Accessories warranty: 36 months/ 60,000km
POWERTRAIN
S Engine litres (2.0)
S Cylinder configuration (I-4)
S Horsepower (160hp @ 6,500RPM)
S Torque (146 lb.-ft. @ 4,450RPM)
S # of valves (16)
S Variable valve control
S Recommended fuel (flexible)
S Aluminum cylinder block
S Aluminum cylinder head
O Block heater
S Battery cold cranking amps (590)
S Battery run down protection
S Low emission vehicle
S Stainless steel exhaust
S Overdrive
S Transmission: 6 speed automatic with auto-shift
S Manual-shift auto: SelectShift
S Drive type: front-wheel
SEATING & TRIM
S Max seating capacity (5)
S Heated front seats
O Power driver seat
S Front centre armrest
S Split folding rear seat
O Leather upholstery
S Leather shift knob
S Leather/ metal-look shift knob
S Leather steering wheel
S Floor mats
S Chrome interior accents
S Carpeted cargo space
S Cargo tie downs
S Cargo light
S Bucket Front seats
S Bench Rear seats
S Cargo cover
SUSPENSION/ HANDLING
S Four wheel independent suspension
S Sport suspension
S Front anti-roll bar
S Rear anti-roll bar
S Power steering
S Rack and pinion steering
S Alloy wheels
SAFETY FEATURES
S ABS brakes
S 4 wheel disc brakes
S Brake assist
O Full size spare tire
S Dual front impact airbags
S Dual front side impact airbags
S Overhead airbag
S Occupant sensing airbag
S Height adjustable front seatbelts
S 3 point rear centre seatbelt
S Side impact bars
S Power door locks
S Perimeter/ approach lights
S Remote keyless entry
S Rear child safety locks
S Immobilizer
S Security system
S Panic alarm
S Stability control
S Traction control
S Front Seatbelt pretensioners
ÉCLAIRAGE, VISIBILITÉ ET INSTRUMENTS
S Fully automatic headlights
S Delay-off headlights
S Aero-composite headlamps
S Front fog lights
S Centre high mounted stop light
S Variably intermittent wipers
S Rain sensing wipers
S Rear window defroster
S Front reading lights
S Tachometer
S Compass
S Outside temperature display
S Low tire pressure warning
S Trip computer
O Reverse sensing system
S Clock: in-radio display
S Service interval indicator
S Transmission fluid temp warning
S Rear window wiper
http://img0.sm360.ca/ir/w600h450/images/newcar/2012/Ford/Focus/Titanium-Hatchback/hatchback/main/2012_Ford_Focus_Titane_Main.jpg http://img0.sm360.ca/ir/w600h450/images/newcar/2012/Ford/Focus/Titanium-Hatchback/hatchback/main/2012_Ford_Focus_Titane_Main.jpg
http://img0.sm360.ca/ir/w600h450/images/newcar/2012/Ford/Focus/Titanium-Hatchback/hatchback/7658_st0640_037.jpg http://img0.sm360.ca/ir/w600h450/images/newcar/2012/Ford/Focus/Titanium-Hatchback/hatchback/7658_st0640_037.jpg
http://img1.sm360.ca/ir/w600h450/images/newcar/2012/Ford/Focus/Titanium-Hatchback/hatchback/7658_st0640_039.jpg http://img1.sm360.ca/ir/w600h450/images/newcar/2012/Ford/Focus/Titanium-Hatchback/hatchback/7658_st0640_039.jpg
http://img0.sm360.ca/ir/w600h450/images/newcar/2012/Ford/Focus/Titanium-Hatchback/hatchback/7658_st0640_040.jpg http://img0.sm360.ca/ir/w600h450/images/newcar/2012/Ford/Focus/Titanium-Hatchback/hatchback/7658_st0640_040.jpg
http://img1.sm360.ca/ir/w600h450/images/newcar/2012/Ford/Focus/Titanium-Hatchback/hatchback/7658_st0640_042.jpg http://img1.sm360.ca/ir/w600h450/images/newcar/2012/Ford/Focus/Titanium-Hatchback/hatchback/7658_st0640_042.jpg
http://img0.sm360.ca/ir/w600h450/images/newcar/2012/Ford/Focus/Titanium-Hatchback/hatchback/7658_st0640_043.jpg http://img0.sm360.ca/ir/w600h450/images/newcar/2012/Ford/Focus/Titanium-Hatchback/hatchback/7658_st0640_043.jpg
http://img2.sm360.ca/ir/w600h450/images/newcar/2012/Ford/Focus/Titanium-Hatchback/hatchback/7658_st0640_044.jpg http://img2.sm360.ca/ir/w600h450/images/newcar/2012/Ford/Focus/Titanium-Hatchback/hatchback/7658_st0640_044.jpg
http://img1.sm360.ca/ir/w600h450/images/newcar/2012/Ford/Focus/Titanium-Hatchback/hatchback/7658_st0640_045.jpg http://img1.sm360.ca/ir/w600h450/images/newcar/2012/Ford/Focus/Titanium-Hatchback/hatchback/7658_st0640_045.jpg
http://img0.sm360.ca/ir/w600h450/images/newcar/2012/Ford/Focus/Titanium-Hatchback/hatchback/7658_st0640_046.jpg http://img0.sm360.ca/ir/w600h450/images/newcar/2012/Ford/Focus/Titanium-Hatchback/hatchback/7658_st0640_046.jpg
http://img0.sm360.ca/ir/w600h450/images/newcar/2012/Ford/Focus/Titanium-Hatchback/hatchback/7658_st0640_049.jpg http://img0.sm360.ca/ir/w600h450/images/newcar/2012/Ford/Focus/Titanium-Hatchback/hatchback/7658_st0640_049.jpg
http://img1.sm360.ca/ir/w600h450/images/newcar/2012/Ford/Focus/Titanium-Hatchback/hatchback/7658_st0640_050.jpg http://img1.sm360.ca/ir/w600h450/images/newcar/2012/Ford/Focus/Titanium-Hatchback/hatchback/7658_st0640_050.jpg
http://img2.sm360.ca/ir/w600h450/images/newcar/2012/Ford/Focus/Titanium-Hatchback/hatchback/7658_st0640_051.jpg http://img2.sm360.ca/ir/w600h450/images/newcar/2012/Ford/Focus/Titanium-Hatchback/hatchback/7658_st0640_051.jpg
http://img0.sm360.ca/ir/w600h450/images/newcar/2012/Ford/Focus/Titanium-Hatchback/hatchback/7658_st0640_052.jpg http://img0.sm360.ca/ir/w600h450/images/newcar/2012/Ford/Focus/Titanium-Hatchback/hatchback/7658_st0640_052.jpg
http://img2.sm360.ca/ir/w600h450/images/newcar/2012/Ford/Focus/Titanium-Hatchback/hatchback/7658_st0640_057.jpg http://img2.sm360.ca/ir/w600h450/images/newcar/2012/Ford/Focus/Titanium-Hatchback/hatchback/7658_st0640_057.jpg
http://img1.sm360.ca/ir/w600h450/images/newcar/2012/Ford/Focus/Titanium-Hatchback/hatchback/7658_st0640_059.jpg http://img1.sm360.ca/ir/w600h450/images/newcar/2012/Ford/Focus/Titanium-Hatchback/hatchback/7658_st0640_059.jpg
http://img0.sm360.ca/ir/w600h450/images/newcar/2012/Ford/Focus/Titanium-Hatchback/hatchback/7658_st0640_061.jpg http://img0.sm360.ca/ir/w600h450/images/newcar/2012/Ford/Focus/Titanium-Hatchback/hatchback/7658_st0640_061.jpg
http://img1.sm360.ca/ir/w600h450/images/newcar/2012/Ford/Focus/Titanium-Hatchback/hatchback/7658_st0640_062.jpg http://img1.sm360.ca/ir/w600h450/images/newcar/2012/Ford/Focus/Titanium-Hatchback/hatchback/7658_st0640_062.jpg
http://img0.sm360.ca/ir/w600h450/images/newcar/2012/Ford/Focus/Titanium-Hatchback/hatchback/7658_st0640_064.jpg http://img0.sm360.ca/ir/w600h450/images/newcar/2012/Ford/Focus/Titanium-Hatchback/hatchback/7658_st0640_064.jpg
http://img1.sm360.ca/ir/w600h450/images/newcar/2012/Ford/Focus/Titanium-Hatchback/hatchback/7658_st0640_065.jpg http://img1.sm360.ca/ir/w600h450/images/newcar/2012/Ford/Focus/Titanium-Hatchback/hatchback/7658_st0640_065.jpg
http://img2.sm360.ca/ir/w600h450/images/newcar/2012/Ford/Focus/Titanium-Hatchback/hatchback/7658_st0640_066.jpg http://img2.sm360.ca/ir/w600h450/images/newcar/2012/Ford/Focus/Titanium-Hatchback/hatchback/7658_st0640_066.jpg
http://img1.sm360.ca/ir/w600h450/images/newcar/2012/Ford/Focus/Titanium-Hatchback/hatchback/7658_st0640_077.jpg http://img1.sm360.ca/ir/w600h450/images/newcar/2012/Ford/Focus/Titanium-Hatchback/hatchback/7658_st0640_077.jpg
http://img2.sm360.ca/ir/w600h450/images/newcar/2012/Ford/Focus/Titanium-Hatchback/hatchback/7658_st0640_081.jpg http://img2.sm360.ca/ir/w600h450/images/newcar/2012/Ford/Focus/Titanium-Hatchback/hatchback/7658_st0640_081.jpg
http://img2.sm360.ca/ir/w600h450/images/newcar/2012/Ford/Focus/Titanium-Hatchback/hatchback/7658_st0640_087.jpg http://img2.sm360.ca/ir/w600h450/images/newcar/2012/Ford/Focus/Titanium-Hatchback/hatchback/7658_st0640_087.jpg
http://img0.sm360.ca/ir/w600h450/images/newcar/2012/Ford/Focus/Titanium-Hatchback/hatchback/7658_st0640_088.jpg http://img0.sm360.ca/ir/w600h450/images/newcar/2012/Ford/Focus/Titanium-Hatchback/hatchback/7658_st0640_088.jpg
http://img1.sm360.ca/ir/w600h450/images/newcar/2012/Ford/Focus/Titanium-Hatchback/hatchback/7658_st0640_089.jpg http://img1.sm360.ca/ir/w600h450/images/newcar/2012/Ford/Focus/Titanium-Hatchback/hatchback/7658_st0640_089.jpg
http://img2.sm360.ca/ir/w600h450/images/newcar/2012/Ford/Focus/Titanium-Hatchback/hatchback/7658_st0640_090.jpg http://img2.sm360.ca/ir/w600h450/images/newcar/2012/Ford/Focus/Titanium-Hatchback/hatchback/7658_st0640_090.jpg
http://img2.sm360.ca/ir/w600h450/images/newcar/2012/Ford/Focus/Titanium-Hatchback/hatchback/7658_st0640_111.jpg http://img2.sm360.ca/ir/w600h450/images/newcar/2012/Ford/Focus/Titanium-Hatchback/hatchback/7658_st0640_111.jpg
http://img0.sm360.ca/ir/w600h450/images/newcar/2012/Ford/Focus/Titanium-Hatchback/hatchback/7658_st0640_115.jpg http://img0.sm360.ca/ir/w600h450/images/newcar/2012/Ford/Focus/Titanium-Hatchback/hatchback/7658_st0640_115.jpg
http://img1.sm360.ca/ir/w600h450/images/newcar/2012/Ford/Focus/Titanium-Hatchback/hatchback/7658_st0640_116.jpg http://img1.sm360.ca/ir/w600h450/images/newcar/2012/Ford/Focus/Titanium-Hatchback/hatchback/7658_st0640_116.jpg
http://img2.sm360.ca/ir/w600h450/images/newcar/2012/Ford/Focus/Titanium-Hatchback/hatchback/7658_st0640_117.jpg http://img2.sm360.ca/ir/w600h450/images/newcar/2012/Ford/Focus/Titanium-Hatchback/hatchback/7658_st0640_117.jpg
http://img0.sm360.ca/ir/w600h450/images/newcar/2012/Ford/Focus/Titanium-Hatchback/hatchback/7658_st0640_118.jpg http://img0.sm360.ca/ir/w600h450/images/newcar/2012/Ford/Focus/Titanium-Hatchback/hatchback/7658_st0640_118.jpg
http://img1.sm360.ca/ir/w600h450/images/newcar/2012/Ford/Focus/Titanium-Hatchback/hatchback/7658_st0640_119.jpg http://img1.sm360.ca/ir/w600h450/images/newcar/2012/Ford/Focus/Titanium-Hatchback/hatchback/7658_st0640_119.jpg
http://img2.sm360.ca/ir/w600h450/images/newcar/2012/Ford/Focus/Titanium-Hatchback/hatchback/7658_st0640_120.jpg http://img2.sm360.ca/ir/w600h450/images/newcar/2012/Ford/Focus/Titanium-Hatchback/hatchback/7658_st0640_120.jpg
http://img0.sm360.ca/ir/w600h450/images/newcar/2012/Ford/Focus/Titanium-Hatchback/hatchback/7658_st0640_121.jpg http://img0.sm360.ca/ir/w600h450/images/newcar/2012/Ford/Focus/Titanium-Hatchback/hatchback/7658_st0640_121.jpg
http://img1.sm360.ca/ir/w600h450/images/newcar/2012/Ford/Focus/Titanium-Hatchback/hatchback/7658_st0640_122.jpg http://img1.sm360.ca/ir/w600h450/images/newcar/2012/Ford/Focus/Titanium-Hatchback/hatchback/7658_st0640_122.jpg
http://img2.sm360.ca/ir/w600h450/images/newcar/2012/Ford/Focus/Titanium-Hatchback/hatchback/7658_st0640_123.jpg http://img2.sm360.ca/ir/w600h450/images/newcar/2012/Ford/Focus/Titanium-Hatchback/hatchback/7658_st0640_123.jpg
http://img2.sm360.ca/ir/w600h450/images/newcar/2012/Ford/Focus/Titanium-Hatchback/hatchback/7658_st0640_126.jpg http://img2.sm360.ca/ir/w600h450/images/newcar/2012/Ford/Focus/Titanium-Hatchback/hatchback/7658_st0640_126.jpg
http://img2.sm360.ca/ir/w600h450/images/newcar/2012/Ford/Focus/Titanium-Hatchback/hatchback/7658_st0640_129.jpg http://img2.sm360.ca/ir/w600h450/images/newcar/2012/Ford/Focus/Titanium-Hatchback/hatchback/7658_st0640_129.jpg
http://img0.sm360.ca/ir/w600h450/images/newcar/2012/Ford/Focus/Titanium-Hatchback/hatchback/7658_st0640_130.jpg http://img0.sm360.ca/ir/w600h450/images/newcar/2012/Ford/Focus/Titanium-Hatchback/hatchback/7658_st0640_130.jpg
http://img2.sm360.ca/ir/w600h450/images/newcar/2012/Ford/Focus/Titanium-Hatchback/hatchback/7658_st0640_132.jpg http://img2.sm360.ca/ir/w600h450/images/newcar/2012/Ford/Focus/Titanium-Hatchback/hatchback/7658_st0640_132.jpg
http://img0.sm360.ca/ir/w600h450/images/newcar/2012/Ford/Focus/Titanium-Hatchback/hatchback/7658_st0640_133.jpg http://img0.sm360.ca/ir/w600h450/images/newcar/2012/Ford/Focus/Titanium-Hatchback/hatchback/7658_st0640_133.jpg
http://img2.sm360.ca/ir/w600h450/images/newcar/2012/Ford/Focus/Titanium-Hatchback/hatchback/7658_st0640_135.jpg http://img2.sm360.ca/ir/w600h450/images/newcar/2012/Ford/Focus/Titanium-Hatchback/hatchback/7658_st0640_135.jpg
http://img2.sm360.ca/ir/w600h450/images/newcar/2012/Ford/Focus/Titanium-Hatchback/hatchback/7658_st0640_138.jpg http://img2.sm360.ca/ir/w600h450/images/newcar/2012/Ford/Focus/Titanium-Hatchback/hatchback/7658_st0640_138.jpg
http://img0.sm360.ca/ir/w600h450/images/newcar/2012/Ford/Focus/Titanium-Hatchback/hatchback/7658_st0640_139.jpg http://img0.sm360.ca/ir/w600h450/images/newcar/2012/Ford/Focus/Titanium-Hatchback/hatchback/7658_st0640_139.jpg
http://img1.sm360.ca/ir/w600h450/images/newcar/2012/Ford/Focus/Titanium-Hatchback/hatchback/7658_st0640_140.jpg http://img1.sm360.ca/ir/w600h450/images/newcar/2012/Ford/Focus/Titanium-Hatchback/hatchback/7658_st0640_140.jpg
http://img2.sm360.ca/ir/w600h450/images/newcar/2012/Ford/Focus/Titanium-Hatchback/hatchback/7658_st0640_141.jpg http://img2.sm360.ca/ir/w600h450/images/newcar/2012/Ford/Focus/Titanium-Hatchback/hatchback/7658_st0640_141.jpg
http://img1.sm360.ca/ir/w600h450/images/newcar/2012/Ford/Focus/Titanium-Hatchback/hatchback/7658_st0640_143.jpg http://img1.sm360.ca/ir/w600h450/images/newcar/2012/Ford/Focus/Titanium-Hatchback/hatchback/7658_st0640_143.jpg
http://img2.sm360.ca/ir/w600h450/images/newcar/2012/Ford/Focus/Titanium-Hatchback/hatchback/7658_st0640_144.jpg http://img2.sm360.ca/ir/w600h450/images/newcar/2012/Ford/Focus/Titanium-Hatchback/hatchback/7658_st0640_144.jpg
http://img0.sm360.ca/ir/w600h450/images/newcar/2012/Ford/Focus/Titanium-Hatchback/hatchback/7658_st0640_145.jpg http://img0.sm360.ca/ir/w600h450/images/newcar/2012/Ford/Focus/Titanium-Hatchback/hatchback/7658_st0640_145.jpg
http://img2.sm360.ca/ir/w600h450/images/newcar/2012/Ford/Focus/Titanium-Hatchback/hatchback/7658_st0640_147.jpg http://img2.sm360.ca/ir/w600h450/images/newcar/2012/Ford/Focus/Titanium-Hatchback/hatchback/7658_st0640_147.jpg
http://img0.sm360.ca/ir/w600h450/images/newcar/2012/Ford/Focus/Titanium-Hatchback/hatchback/7658_st0640_148.jpg http://img0.sm360.ca/ir/w600h450/images/newcar/2012/Ford/Focus/Titanium-Hatchback/hatchback/7658_st0640_148.jpg
http://img2.sm360.ca/ir/w600h450/images/newcar/2012/Ford/Focus/Titanium-Hatchback/hatchback/7658_st0640_150.jpg http://img2.sm360.ca/ir/w600h450/images/newcar/2012/Ford/Focus/Titanium-Hatchback/hatchback/7658_st0640_150.jpg
http://img0.sm360.ca/ir/w600h450/images/newcar/2012/Ford/Focus/Titanium-Hatchback/hatchback/7658_st0640_151.jpg http://img0.sm360.ca/ir/w600h450/images/newcar/2012/Ford/Focus/Titanium-Hatchback/hatchback/7658_st0640_151.jpg
http://img2.sm360.ca/ir/w600h450/images/newcar/2012/Ford/Focus/Titanium-Hatchback/hatchback/7658_st0640_156.jpg http://img2.sm360.ca/ir/w600h450/images/newcar/2012/Ford/Focus/Titanium-Hatchback/hatchback/7658_st0640_156.jpg
http://img2.sm360.ca/ir/w600h450/images/newcar/2012/Ford/Focus/Titanium-Hatchback/hatchback/7658_st0640_159.jpg http://img2.sm360.ca/ir/w600h450/images/newcar/2012/Ford/Focus/Titanium-Hatchback/hatchback/7658_st0640_159.jpg
http://img0.sm360.ca/ir/w600h450/images/newcar/2012/Ford/Focus/Titanium-Hatchback/hatchback/7658_st0640_160.jpg http://img0.sm360.ca/ir/w600h450/images/newcar/2012/Ford/Focus/Titanium-Hatchback/hatchback/7658_st0640_160.jpg
http://img0.sm360.ca/ir/w600h450/images/newcar/2012/Ford/Focus/Titanium-Hatchback/hatchback/7658_st0640_163.jpg http://img0.sm360.ca/ir/w600h450/images/newcar/2012/Ford/Focus/Titanium-Hatchback/hatchback/7658_st0640_163.jpg
http://img1.sm360.ca/ir/w600h450/images/newcar/2012/Ford/Focus/Titanium-Hatchback/hatchback/7658_st0640_173.jpg http://img1.sm360.ca/ir/w600h450/images/newcar/2012/Ford/Focus/Titanium-Hatchback/hatchback/7658_st0640_173.jpg
http://img2.sm360.ca/ir/w600h450/images/newcar/2012/Ford/Focus/Titanium-Hatchback/hatchback/7658_st0640_174.jpg http://img2.sm360.ca/ir/w600h450/images/newcar/2012/Ford/Focus/Titanium-Hatchback/hatchback/7658_st0640_174.jpg
http://img0.sm360.ca/ir/w600h450/images/newcar/2012/Ford/Focus/Titanium-Hatchback/hatchback/7658_st0640_175.jpg http://img0.sm360.ca/ir/w600h450/images/newcar/2012/Ford/Focus/Titanium-Hatchback/hatchback/7658_st0640_175.jpg
http://img1.sm360.ca/ir/w600h450/images/newcar/2012/Ford/Focus/Titanium-Hatchback/hatchback/7658_st0640_176.jpg http://img1.sm360.ca/ir/w600h450/images/newcar/2012/Ford/Focus/Titanium-Hatchback/hatchback/7658_st0640_176.jpg
http://img2.sm360.ca/ir/w600h450/images/newcar/2012/Ford/Focus/Titanium-Hatchback/hatchback/7658_st0640_177.jpg http://img2.sm360.ca/ir/w600h450/images/newcar/2012/Ford/Focus/Titanium-Hatchback/hatchback/7658_st0640_177.jpg
Start more than a car

Driving the all-new 2012 Focus goes beyond fun and enjoyable. In it, you'll discover something more visceral. A dynamic design. An addictive driving experience. And technology and interior ergonomics that wrap around and plug you into something that is definitely more than just a car.

Wind can't stop what wind can't touch.

It's more than good-looking for the sake of being good-looking. This kinetic design actually serves a purpose. An aerodynamic one. By crafting the Focus sedan to have a body surface eight percent more aerodynamic than the previous model, we improved its wind resistance and therefore made it more efficient. Irresistible to your eyes. Less resistant to the wind.
Book an appointment with a representative for this vehicle